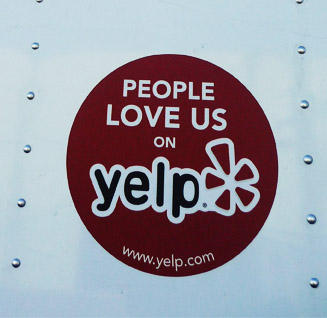 Testimonials are essential when selecting a mover and so we are publishing a small sample of the many, many positive reviews our customers have shared on Yelp.com. We are justifiably proud of our moving professionals and we think these reviews say it all.
Call us for your free quote: (415) 415-822-1111.

"Man.... the reviews don't lie! If you want a no hassle moving experience, this IS the way to go! They are such hard workers... no messing around or goofing off... Just straight business.... Love it... AND, the final payment was less then what had originally been estimated... Can't ask for more.... Bless the Irish :) "
Nora
"My husband and I moved within the city last weekend, and we were completely satisfied with our services from Pat Ryan's company. The movers showed up right on time, they worked quickly and efficiently, nothing was damaged despite some tricky staircase maneuvers that the movers had to do at both our old and new places, and the price tag came in at about $100 less than Pat's original quote to me. Best of all, Pat returned all of my phone calls promptly and was just a pleasure to deal with -- we would hire them for a move again in a heartbeat."
AW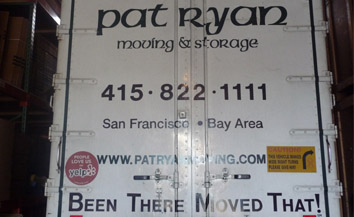 "To give them five stars seems so unfair, they deserve about ten! I found Pat on Yelp last week, had to move some seriously heavy stuff and had two drop off locations, no less. With just two guys, they moved me quickly, efficiently and did way more than I expected. These are the BEST movers I've ever had- they were nice, efficient and went the extra mile, literally! Plus, no hidden fees, they had a big ass truck and didn't scratch a thing. I was so impressed, I can honestly say I put them to a serious moving challenge and they managed to far surpass my expectations."
Carrie S
"I can't say enough about Pat Ryan and his band of movers. We were their third move on a rainy Saturday night and these guys were amazing. They worked like horses and pretty much made jokes and laughed the whole time. A few things broke, but I don't think I packed those things well enough.
I have never used movers before and working with Pat was a pleasurable experience. Earlier on the day of the move, Pat gave me a call to let me know that they were a little behind. It didn't matter to me much and when it came time to pay the bill, they knocked off a hefty sum to compensate for the delay. I can't say this enough, these guys were great and you'd be crazy to not give them a try when you move again."
Leigh S
Call us for your free quote: (415) 415-822-1111.